(800) 378-8259    Info@Caliparc.com 
TRAVEL TO AND FROM OUR OHIO LOCATION IS COVERED BY VARIOUS SOURCES
Active Military and Veteran Substance Abuse Program
The California Palms primary objective of the Substance Abuse Treatment Program is to promote health, and wellness through the prevention and treatment of substance abuse, veterans drug addiction, alcohol addiction, heroin addiction and opioid addiction among veterans and military. we offer residential treatment to minimize the negative consequences of substance misuse and abuse to the individual, and family, and to provide treatment to individuals who experience problems attributed to substance misuse or abuse, to restore function and return substance abusers to active life.
The California Palms provides evidence-based substance use disorder inpatient  treatment that follows the clinical practice guidelines. The primary aim is to improve quality of life, and return members to productive and unrestricted duty, or to assist them in their transition to civilian life, as appropriate.
Use of Evidence-Based Services
The California Palms provides evidence-based substance use disorder services that adhere to clinical practice guidelines, as well as other DoD/Veterans Affairs guideline for the treatment of substance use disorders.
Substance misuse prevention efforts are geared toward enhancing individual and unit resiliency, both of which can be compromised by hazardous alcohol use and SUDs. Prevention strategies must be comprehensively structured to educate and inform the overall population as well as specifically target higher risk populations.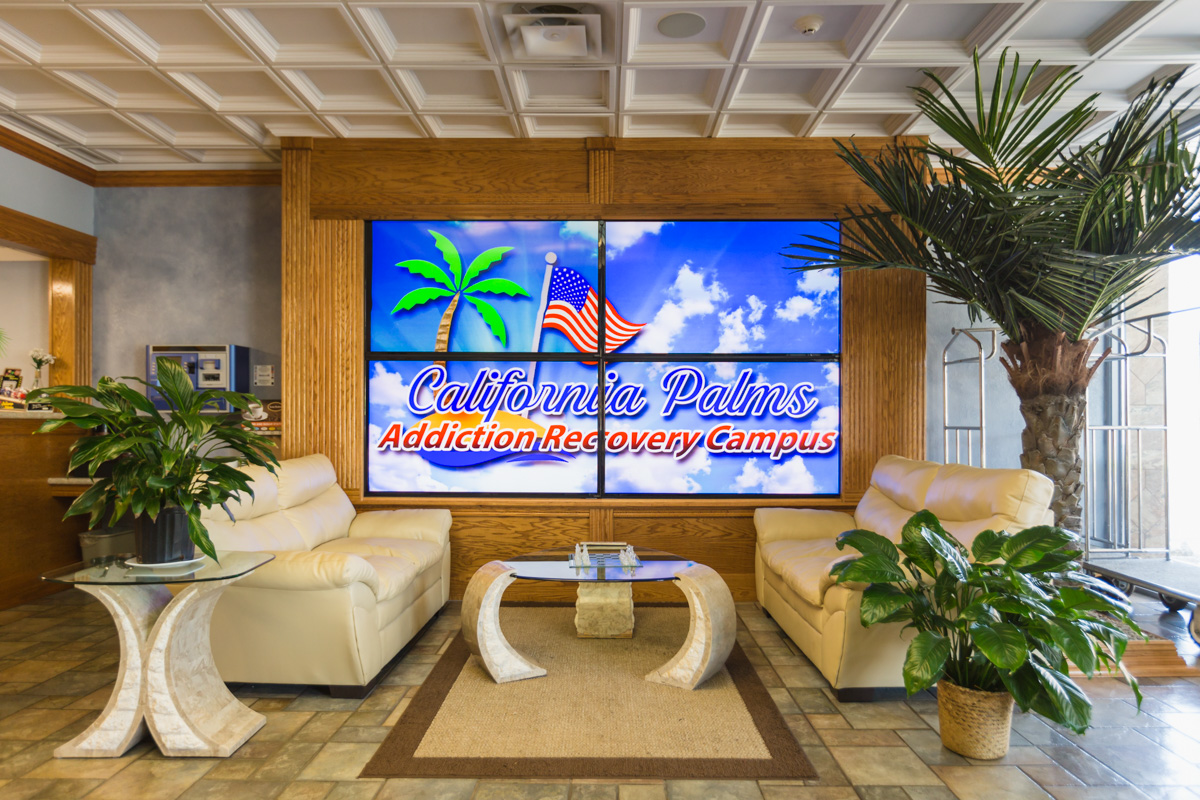 Patient Assessment and Diagnostic Responsibilities
Treatment or prevention counseling for all patients should be based on thorough assessment (e.g. Substance Use Assessment Tool, clinical interview, and collection of collateral data as appropriate), determination of risk, and should be tailored for the individual.
Evaluation for specialty treatment requires a thorough biopsychosocial assessment that adheres to evidence based clinical practice guidelines from VA/DoD. The initial assessment is utilized to make treatment recommendations.
The Palms does a complete review of the resident's medical history, including a thorough medication reconciliation. This can help providers uncover potential poly-substance abuse disorders, identify drug-seeking behaviors, and target therapy appropriately. Throughout treatment, providers periodically monitor any changes in the resident's diagnoses.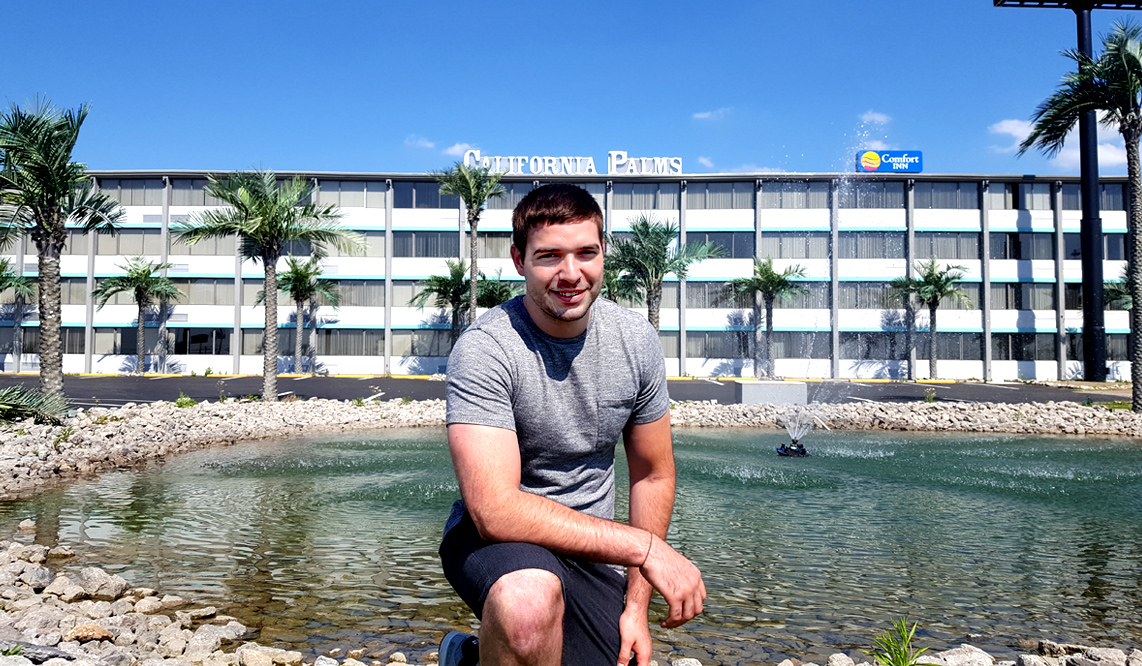 SUD Treatment and Program Standards
The 24-hour treatment setting for SUD provides a continuum of services capable of meeting the needs of individual under various levels of care. As individuals move throughout the continuum in their recovery they transition to levels of care of greater or lesser intensity, depending on their clinical needs and treatment goals. An individual with SUD may begin with intensive inpatient treatment only to find that a less intensive level of care, such as intensive outpatient treatment, is more appropriate.
Our residential inpatient services are designed to improve the patient's ability to structure and organize the tasks of daily living, stabilize the individual's substance use disorder symptoms, to develop and apply sufficient recovery skills, and to develop and practice prosocial behaviors such that imminent return to substance use upon transfer to a less intensive level is avoided. The skilled treatment services include a range of cognitive, behavioral and other therapies administered on an individual and group basis; medication management and medication education; counseling and clinical monitoring; random drug screening; planned clinical activities and professional services to develop and apply recovery skills; family therapy; educational groups; occupational and recreational therapies; art, music or movement therapies; physical therapy; and related services.
Comprehensive, multifaceted treatment is provided to individuals with psychological problems, and chaotic or unsupportive interpersonal relationships, and antisocial value systems. Treatment promotes abstinence from substance use, and other negative behaviors to effect change in the patients' lifestyle, attitudes, and values, and focuses on stabilizing current severity and preparation to continue treatment in less intensive levels of care. We transition the levels of care throughout treatment in response to changing clinical needs and treatment goals.
Our residential inpatient services for co-occurring disorders in a 24-hour treatment setting is appropriate for individuals whose primary problems involve emotional, behavioral, cognitive, readiness to change, relapse, or recovery environment concerns. Intoxication, withdrawal, and biomedical concerns, if present, are safely manageable in a 24-hour treatment setting. The American Society of Addiction Medicine (ASAM) industry guidelines are found in Treatment Criteria for Addictive Substance-Related and Co-Occurring Condition. The California Palms' residential inpatient care in a 24-hour treatment setting provides the level of care found in ASAM Level 3.5 known as Clinically Managed High-Intensity Residential Services.
VETERANS DRUG TREATMENT REHAB PROGRAMS
Veterans alcohol addiction treatment rehab. Veterans Affairs substance abuse treatment program for drug and alcohol abuse.Help for Veterans who struggle with drug addiction to heroin, cocaine, prescription pain killer, meth, crack cocaine and other drug drugs that Military & Veterans become addicted to drugs. We are a VA approved residential substance abuse program who offers long time inpatient treatment for vets who struggle from drug addiction.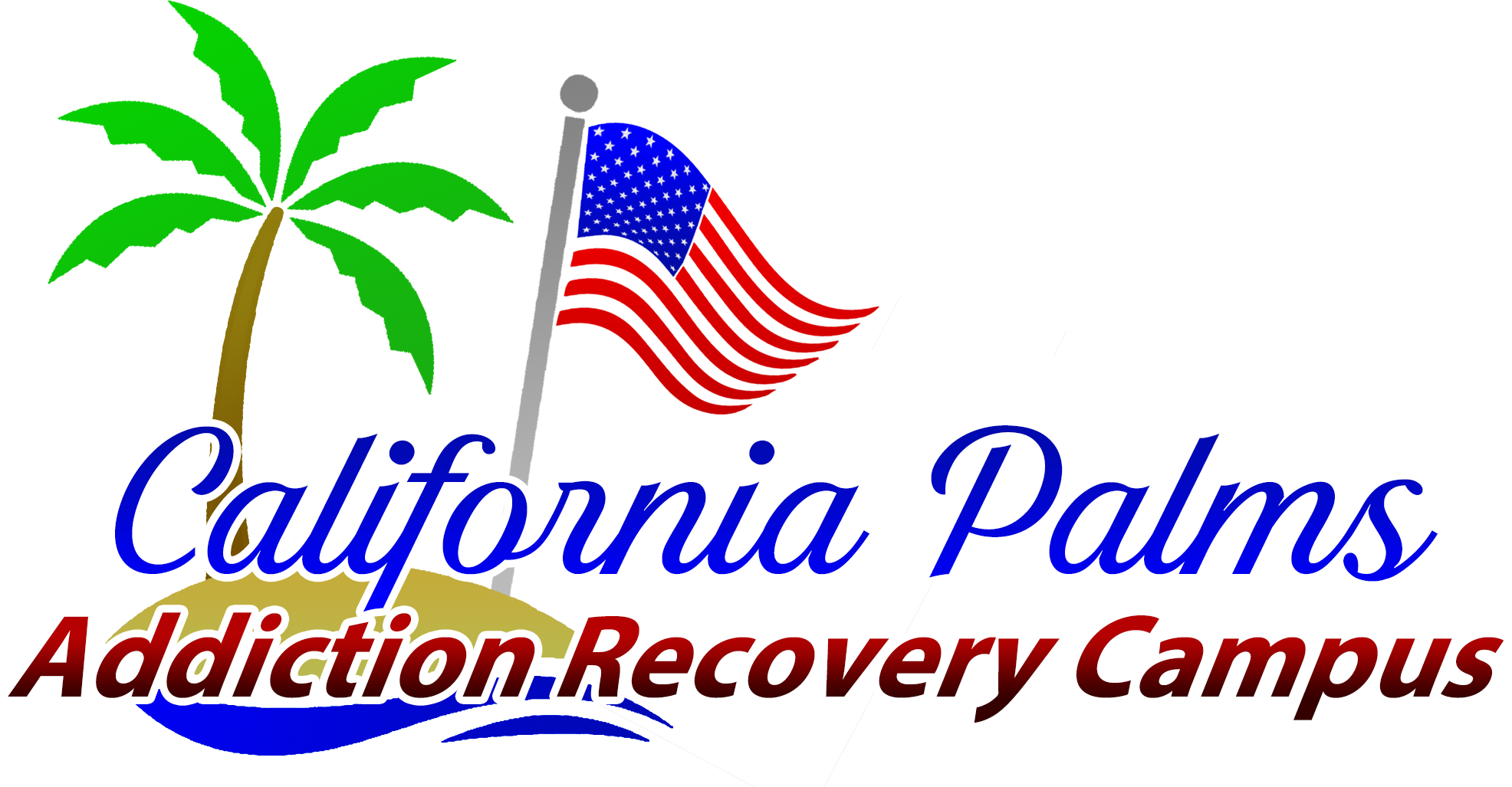 Travel to and from our location in Northeast Ohio is covered by various sources. If you or a loved one is seeking substance abuse or mental health therapy, contact California Palms at 800-378-8259.  We accept various forms of insurance including: Veterans Choice, TRICARE, Aetna, Blue Cross & Blue Shield, Cigna, Humana, and Medical Mutual. We may also provide full or partial scholarships for free care on a case by case basis.
(800) 378-8259    Info@Caliparc.com 
Alabama Veterans Alcohol Rehabs, Alaska Veterans Alcohol Drug Rehabs, Arizona Drug Veterans Alcohol Rehab, Arkansas Drug Veterans Alcohol Rehab, California Drug Veterans Alcohol Rehab, Colorado Veterans Alcohol Drug Rehab, Connecticut Veterans Alcohol Drug Rehab, Delaware Drug Veterans Alcohol Rehab, Florida Drug Veterans Alcohol Rehab, Georgia Veterans Alcohol Drug Rehab, Hawaii Drug Veterans Alcohol Rehab, Idaho Drug Veterans Alcohol Rehab, Illinois Drug Veterans Alcohol Rehab, Indiana Drug Veterans Alcohol Rehab, Iowa Drug Veterans Alcohol Rehab, Kansas Drug Veterans Alcohol Rehab, Kentucky Drug Veterans Alcohol Rehab, Louisiana Drug Veterans Alcohol Rehab, Maine Drug Veterans Alcohol Rehab, Maryland Drug Veterans Alcohol Rehab, Massachusetts Drug Veterans Alcohol Rehab, Michigan Drug Veterans Alcohol Rehab, Minnesota Drug Veterans Alcohol Rehab, Mississippi Veterans Alcohol Drug Rehab, Missouri Drug Veterans Alcohol Rehab, Montana Drug Veterans Alcohol Rehab, Nebraska Drug Veterans Alcohol Rehab, Nevada Veterans Alcohol Drug Rehab, New Hampshire Veterans Alcohol Drug Rehab, New Jersey Veterans Alcohol Drug Rehab, New Mexico Veterans Alcohol Drug Rehab, New York Veterans Alcohol Drug Rehab, North Carolina Veterans Alcohol Drug Rehab, North Dakota Veterans Alcohol Drug Rehab, Ohio Veterans Alcohol Drug Rehab, Oklahoma Veterans Alcohol Drug Rehab, Oregon Veterans Alcohol Drug Rehab, Pennsylvania Veterans Alcohol Drug Rehab, Puerto Rico Veterans Alcohol Drug Rehab, Rhode Island Veterans Alcohol Drug Rehab, South Carolina Veterans Alcohol Drug Rehab ,South Dakota Veterans Alcohol Drug Rehab, Tennessee Veterans Alcohol Drug Rehab, Texas Veterans Alcohol Drug Rehab, Utah Drug Rehab, Vermont Drug Rehab, Virginia Veterans Alcohol Drug Rehab, Washington Veterans Alcohol Drug Rehab, West Virginia Veterans Alcohol Drug Rehab, Wisconsin Veterans Alcohol Drug Rehab, Wyoming Veterans Alcohol Drug Rehab